A rip roaring folk band that specializes in Trad Irish, Manx songs, Rollicking ribald ballads, Scrumpy and Western plus a variety of sing along type songs, which you thought you had forgotten, (actually the band probably have)!!
Essentially the band is "Jokey and Folkey" something like a cross between the Spinners, the Baron Knights, and the Scaffold. However the local Manx press think they are musically positioned nearer the famous Isle of Man's "Purple Helmets" a comedy motorcycle display team!!
The band members :-
Graham Stowell
The good looking one with the feathers !! Graham was intensively trained at a music house academy somewhere in the North of England so you could say he has been fully house trained !! He is the lead singer and that is exactly it ….we have to keep him on a lead to comply with health and safety requirements.
Martyn Perkins
Who normally plays the Melodeon… not only does he play on the black notes and the white notes but quite often on a load of other notes in between. If asked what went wrong, he is likely to reply in his west country lilt …. "I dunno …. can't put me finger on it".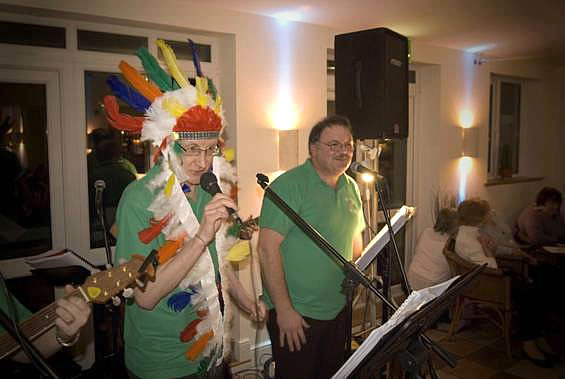 Fiona Cracknell
Is an extremely well qualified musician (Thank goodness we have actually got one !!) She has been described as being an expert in her field ….. which we think is just off the main road somewhere between Douglas and Peel. Perhaps that is why her guitar is green !!
Eric Maggs
Enjoys playing all the twiddley bits and is arguably the best mandolin player on the Island, however we should point out that as far as we are aware it is an argument that nobody has ever won.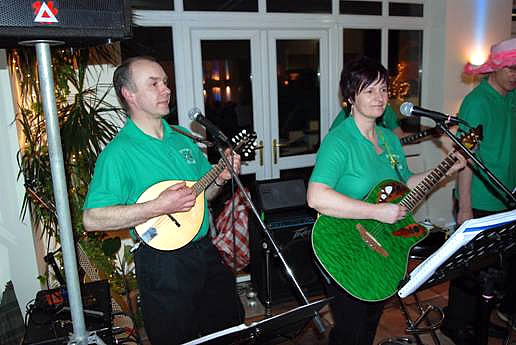 Throw all that lot together and "The Shenanigans" guarantee an evening of unrivalled live entertainment for all!